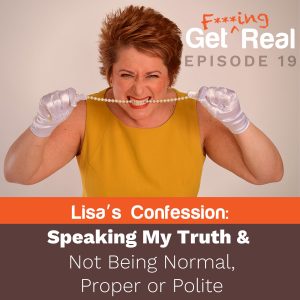 You're in for a treat today with your GFR Host, Lisa Cherney. Let's face it, as mission-driven entrepreneurs, business is personal. No doubt about it, I'm sure you can relate.
So…. where are you not speaking your truth? Look, you have to say what you want to say. There's no one else out there that can create transformation like you. Stop holding out on us!
In this episode, Lisa makes a confession, hint: it's about the show. If you're walking on eggshells always afraid to offend someone, or you don't want to say no, or perhaps you're overcommitting all over the place, this whoop-ass episode is the medicine you need… delivered with a spoon full-sugar of course.