We'd love to hear from you!
Please be specific about your inquiry and our team will get back to you shortly
- booking Lisa to speak
- working with Lisa
- being a show guest
- questions about Squad membership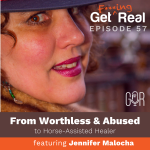 Do you define your present self by your past experiences?
Jennifer opens up about life with her narcissistic ex and we dig into the way our abused selves create false beliefs to make sense of trauma. She also shares the top 5 priorities for post-traumatic growth (and their interesting connection to "The Top 5 Regrets of the Dying"). Check it out and enjoy!
Read More
Now it's time for your confession!
Your roadmap for getting real!
This colorful cool-lookin' guide will be your ever-present reminder to ask yourself the tough questions.
The goal is a business you f'n love and a life lived without regrets.
It's Confession time! Are you ready to get fucking real?
12 Commandment + 12 Confession Questions = A GFR Life