We'd love to hear from you!
Please be specific about your inquiry and our team will get back to you shortly
- booking Lisa to speak
- working with Lisa
- being a show guest
- questions about Squad membership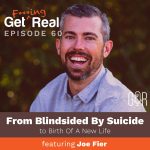 Do you know the power of confession and sharing your secrets?
Joe Fier, a digital marketing expert, story starts with the 23-day span between his dad's suicide and the birth of his first daughter after a 7-year struggle with infertility … all just 5 months ahead of the COVID pandemic.
Read More
Now it's time for your confession!
Your roadmap for getting real!
This colorful cool-lookin' guide will be your ever-present reminder to ask yourself the tough questions.
The goal is a business you f'n love and a life lived without regrets.
It's Confession time! Are you ready to get fucking real?
12 Commandment + 12 Confession Questions = A GFR Life