We'd love to hear from you!
Please be specific about your inquiry and our team will get back to you shortly
- booking Lisa to speak
- working with Lisa
- being a show guest
- questions about Squad membership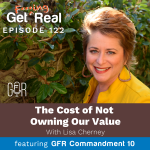 Lisa's her own guest as she examines GFR Commandment #10: Know that the struggle/stress/pain prevented with your expertise has enormous monetary value!Are you owning your value?One of the biggest hurdles we face as entrepreneurs is undercharging for our products and services, which as Lisa explains on today's show, comes from minimizing our expertise and the…
Read More
Now it's time for your confession!
Your roadmap for getting real!
This colorful cool-lookin' guide will be your ever-present reminder to ask yourself the tough questions.
The goal is a business you f'n love and a life lived without regrets.
It's Confession time! Are you ready to get fucking real?
12 Commandment + 12 Confession Questions = A GFR Life