We'd love to hear from you!
Please be specific about your inquiry and our team will get back to you shortly
- booking Lisa to speak
- working with Lisa
- being a show guest
- questions about Squad membership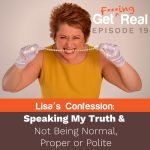 You're in for a treat today with your GFR Host, Lisa Cherney. Let's face it, as mission-driven entrepreneurs, business is personal. No doubt about it, I'm sure you can relate.
So…. where are you not speaking your truth? Look, you have to say what you want to say. There's no one else out there that can create transformation like you. Stop holding out on us!
In this episode, Lisa makes a confession, hint: it's about the show. If you're walking on eggshells always afraid to offend someone, or you don't want to say no, or perhaps you're overcommitting all over the place, this whoop-ass episode is the medicine you need… delivered with a spoon full-sugar of course.
Read More
Now it's time for your confession!
Your roadmap for getting real!
This colorful cool-lookin' guide will be your ever-present reminder to ask yourself the tough questions.
The goal is a business you f'n love and a life lived without regrets.
It's Confession time! Are you ready to get fucking real?
12 Commandment + 12 Confession Questions = A GFR Life